"As a teacher, a speech-language pathologist, and a teacher of teachers, I am pleased to recommend Tootle Tales, a delightful and interactive series that will enhance reading skills in a uniquely fun and appealing manner. Each book in the series is filled with a variety of rhyme schemes, phonemic awareness and phonics concepts—all of which are extremely critical to reading and academic success. The characters and the stories are accompanied by colorful and attractive illustrations and each book is filled with wonder, excitement and surprise. The series is extremely fun and enjoyable for all ages!"
—Gay St. Cyr Hess, M.S., CCC- SLP
"Kids will have fun giggling and wiggling, counting oodles of noodles and savoring polka-dot lollipops in Maryceleste Clement's Tootle Tales. They make a great read at children's tea parties! So join Mr. Tootles for tea at 3 and have a rollicking good time." —Roz Pelcyger, Director, Glen Rock Library, NJ, and New York Times Librarian of the Year 2006 "...Of all the books that my children have ever read at school, Mr. Tootles stands out as the most memorable. I can't imagine the number of children Mr. Tootles has touched and will continue to touch. I truly believe Mr. Tootles will be to my children what Dr. Seuss was to me. Thank you for giving joy to my children and helping to create sweet memories for me."
—Monique G. - Mother of Four
"The students and staff of St. Edward School were highly entertained by author Maryceleste Clement who did an oral reading of her delightful book, Mr. Tootles and Those Oodles of Noodles. Mr. Tootles himself, Paul Schexnayder, all decked out in his black derby hat and checkerboard bowtie and socks, equally fascinated them. I was very impressed at how much he resembled the main character, as well he might. He is the illustrator of the book and his self-portrait is amazing. After the reading, the children's sense of recall was tested through a 'Q & A' session. Those who answered correctly were given Tootles stickers. All in attendance had "oodles" of fun, as would anyone fortunate enough to host such a talented pair."
—Lorita Cruz, St. Edward School, Librarian, New Iberia, Louisiana
"Mr. Tootles was awesome!! I'm so glad Maryceleste came and read for us. The children here talked about it all that day and the next day too! We can't wait for the next book!"
—Nicole Excuriex, Gingerbread House, Early Learning Center, New Iberia, Louisiana
"A friend gave us one of your books for a baby shower and we have read it to our daughter Margaret since she was a newborn. She is now almost two years and requests the book by name—Tootles! Margaret loves the part where Mr. Tootles and Mrs. Bea hold hands, clap their hands, pinch their toes, and snap."
—Michael, Tina, and Margaret Ripperger, McKinney, Texas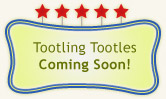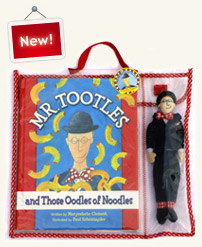 Place an order through our store for $50 or more and get FREE shipping!